At Melrose Gardens we are proud to present our residents with healthful, taste-tempting meals. Our menus are geared toward good nutrition and exciting flavors. Most of our selections are low sodium, in order to accommodate the dietary needs of our residents.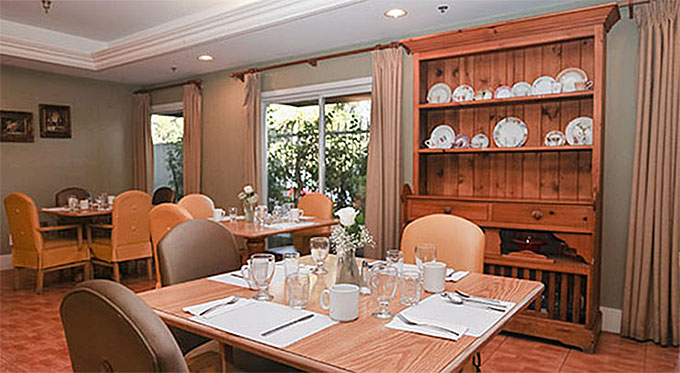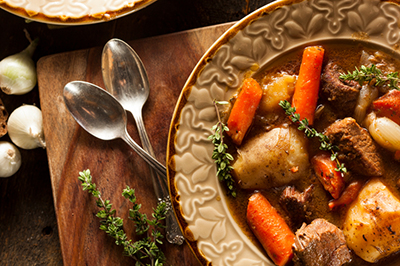 We offer a full range of breakfast items — cold and hot cereals, juices, English muffins and toast, eggs any way you like, and pancakes. Each day we feature a specialty selection, such as lox and bagels or apple cinnamon French toast. A representative luncheon includes selections of fresh fruits and homemade fresh salads, and a soup du jour, such as tomato bisque, cream of carrot or French onion. Entrée selections include such appetizing dishes as poached salmon with tarragon sauce, or eggplant parmesan. We also have quiche, soufflés and homemade pizzas on our menus. Calamari fritti with sweet potato fries and even a gourmet burger also make an appearance! Luncheon desserts range from banana splits to fresh fruit or homemade cookies.
At dinner we tempt you once again with one of our healthy soups such as albondigas (Italian Wedding soup) or a comforting chicken noodle. Sample selections from our wide variety of main entrées include beef brisket, shrimp scampi, apricot chicken and sole almandine. If you're in the mood for comfort food you can choose meat leaf, chicken pot pie or a simple roasted chicken dinner. If you still have room, desserts vary from tiramisu to carrot cake, brownies or old fashioned apple pie.
Holidays are special events and celebrated at Melrose Gardens with homemade traditional fare. We bake our own breads and pastries, and a special birthday cake would be our pleasure.