Los Angeles Memory Care Community, Mild Cognitive Impairment Program
Club Melrose
Club Melrose, is one of our Los Angeles memory care programs at Melrose Gardens provides professional memory care for those with mild cognitive impairment. This special memory care program provides activities, and professional staff on site to assist residents with mild cognitive impairment. If you or a family member are experiencing early memory issues then please contact us to inquire about Club Melrose, our mild cognitive impairment program. Living alone and without regular contact may amplify a person's memory issues. Assisted living provides companionship and structure which helps residents to manage early memory loss. Our Los Angeles early memory care program is designed specifically to meet our residents' needs with MCI while they continue to live on the main campus. Some memory care program highlights include:
The Brain Workout Program developed by the Neurodevelopmental Learning Institute. This is an intense, cognitive enhancement/training program that corrects and enhances processing skills. The Brain Workout encourages our memory care residents to have a more positive outlook on life and has been shown to improve memory, brain processing for better decision making, and cognitive abilities; decrease stress and anxiety; and decrease risk of falls.
Weekly, senior friendly yoga classes are provided by visiting experienced instructors. Our classes are low impact and allow our residents to benefit from a mind-body tradition that has been practiced for centuries for health and fitness. Practicing yoga stimulates the central nervous system and improves gait, balance, coordination and flexibility. It also improves mood and benefits mental and emotional health. Studies have shown that yoga can reduce stress, anxiety, anger, depression and mood disturbance, and increase self-esteem, mental cognition and memory. In short, it's a wonderful tool for healthy aging.
Daily memory enhancement group programs are provided by the Club Melrose activity staff. Just as the body is strengthened by regular exercise and specific skills, memory and brain power can be enhanced through targeted exercises and skills. In this group we use fun and entertaining questions and games that invite the brain to respond. Residents work on long- and short-term memory exercises, language, numerical puzzles, reasoning and creative skills. All exercises are oral so whoever has the answer simply raises a hand or calls it out—the more reticent are encouraged to respond, but no one is ever put on the spot with a direct individual question.
Daily group physical and mental exercises are important elements of the Club Melrose memory care program. Research by Neuroscientist Art Kramer (University of Illinois) indicates a strong association between regular aerobic exercise and increased brain volume, which correlates to better memory. What is true of many things in life is confirmed in this regard by Konstantinos Arfanakis, Ph.D. (Rush Alzheimer's Disease Center, Illinois), "If you don't use it, you lose it." Cognitive stimulation goes a long way in maintaining brain activity, helping prevent dementia and slowing cognitive decline. As a part of our daily mental exercise program we include such activities as reading a newspaper or book, writing a letter, watching a film documentary, playing chess or checkers and surfing the Web together.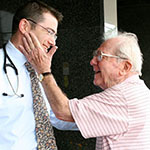 Ongoing memory care evaluation and support is provided by Dr. Matthew G. Lefferman, D.O., founder and medical director of Access Healthcare Associates in Los Angeles. Access Healthcare Associates, along with Dr. Lefferman, offers a unique mobile medical practice at Melrose Gardens for our families that elect their services. Dr. Lefferman's patients and their families take quickly to his thoughtful, caring and calm demeanor. Dr. Lefferman has chosen to practice geriatrics because he loves the field, respects greatly the wisdom and vitality of the senior population, and enjoys connecting with, and caring for senior patients.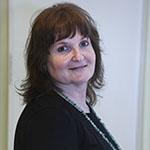 Ongoing support is also provided by clinical psychologist Dr. Elizabeth Farr, Ph.D., a gerontologist and clinical psychologist specializing in counseling for the elderly and their family members. Dr. Farr offers psychological testing, evaluations and solution-oriented psychotherapy, and is available to provide consultation to caregivers.
For many in the last quarter of their lives, spirituality takes on renewed significance. We offer weekly nondenominational spiritual services, and our driver is available to take residents to specific weekly services in a preferred house of worship. The lovely trees and gardens at our property provide a quiet setting for those more inclined to find spiritual comfort in nature.