Simple techniques for finding joy in new connections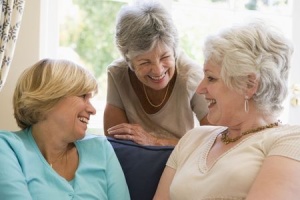 It probably comes as no surprise that people with friendships live longer than those without them. In fact, a 10-year Australian study showed that older people with a large circle of friends outlived those with the fewest friends by 22 percent. Other research shows that people with strong social support have fewer cardiovascular and immune problems, so it all makes sense.
There are also those intangibles you get from spending time with friends—the laughs, the hugs, the sense that you're connected to a bigger world waiting outside your door.
As we get older, however, we often see our social circles getting smaller as friends move away to be near their families, people become less active because of illness or disabilities, or they pass away.
"This is a topic that hits home [especially] for women as they age," notes friendship expert Irene Levine, author of Best Friends Forever: Surviving a Breakup with Your Best Friend. "Having a husband isn't enough. There are simply things that you can only speak about to other women."
And yet, she says, making friends in the second half of life often takes more effort than before.
"As you get older, you spend less time on parenting and employment so you have more time to do things with friends. Ironically, it's harder to make friends then because it's less likely to happen organically, for example in the workplace or at a PTA meeting," she says.
Does this mean we must accept an increasingly smaller social circle as we age? Of course not! It just means that we have to make a little more effort to meet and befriend others.
Here are seven tried and true tips from Levine and others that will help you make new friends for years to come.
Don't assume that people already have all the friends they need.
Because friendships are dynamic and fluid, Levine says, most people have room in their lives for new relationships.
In addition, when you change where you live, whether it's moving to a different state to be near family or moving across town to a senior living community, you'll find other people like you in the same situation who are ready for new friends.
Look for opportunities to share your interests and passions.
Seek out activities that bring together the same people in the same place repeatedly—similar to what you experienced in your earlier years in school.
Start with your hobbies. A friend of mine became such a skilled needlepointer after he retired that he now teaches a regular class at a local shop—and has developed a new group of friends.
Big on books? Join or form a book club at the library.
Like to garden? Attend the local garden club meetings.
Passionate about politics? Volunteer to work on a campaign.
Love ballroom dancing? Offer to take or teach a class at a community recreation center.
Use Meetup.com to find or start a group near you that shares your interests.
Show up.
Shannon Ingram, vice president of marketing at Caring.com, quoted Woody Allen when her parents moved into a senior living community and were anxious about making new friends.
"Eighty percent of success is showing up," she reminded them as she nudged them down the hall to a community Valentine's Day dinner dance on their first night there. (They loved it.)
She notes that senior centers and communities typically offer a wide range of activities and excursions designed to appeal to many interests and abilities.
"Put on your nice clothes and get out there," she says. "Get on that bus headed to a museum or show even if you don't like busses. You'll get to know people by showing up."
Smile.
My mother wore down her nursing home dining room companions every day with a big smile and a cheery, "Good morning!" It didn't take long for her to start referring to them as friends.
Levine says that was a smart approach.
"It's really important to smile and say hello, no matter how nervous you might be feeling," says Levine. "Start with small talk and show interest in the other person."
Get a small dog.
Seriously.
Pets bring with them a myriad of health benefits, but dogs in particular can help you make friends when you walk them. They are people magnets—who can resist stopping to pet the world's cutest Pomeranian?
Ask for help.
If you're the new kid in a community living setting, Ingram recommends asking someone on the welcome committee or the staff to introduce you to others with common backgrounds, neighborhoods, interests or experiences.
"This is often standard operating procedure but if it's overlooked, don't hesitate to ask for guidance finding people you might have something in common with," she says.
Expect it to take time.
"Friendships take time. They deepen as people become more comfortable with each other and develop trust, so you don't want to rush it," Levine says.
With a little effort and a lot of smiling, though, you'll be rewarded.