Skilled instruction for tech novices might be just around the corner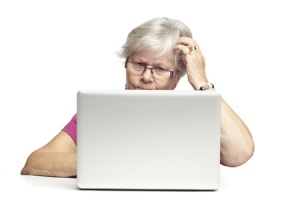 Feeling a little blue? Maybe a little face-to-face time with a computer would help.
According to Michigan State University research, retirees who use the computer are 30 percent less likely to suffer from depression than those who don't.
This is good news for senior computer users. As for those who aren't tech-savvy yet . . . it's never too late to learn. There are plenty of resources that can get you started or add to the skills you have already.
Abby Stokes, a computer specialist who trains older adults and wrote Is This Thing On? A Computer Handbook for Late Bloomers, Technophobes, and the Kicking & Screaming, says that most seniors who use computers do so for three reasons:
To stay in touch by e-mail
For Internet searches
To be at the same level as friends and family who are computer users
Interested in learning how you might join your friends on the information super highway? Stokes recommends looking for help in the right places, which isn't necessarily with relatives.
"The older adult's children or grandchildren are usually the first people they turn to for help, but learning how to use a computer is a little bit like learning how to drive a car. Family members aren't always the best instructors for either," she says.
Stokes and others recommend the following resources, whether you're starting from scratch or expanding your computer skills:
Your public library
This is a great place to start if you haven't bought a computer yet and want to take one for a test drive. You'll have free access any time the library is open.
Most libraries have classes, too. (If yours doesn't, they will probably organize one for you if you can get enough friends to register.) The instructors are usually the librarians, which is a good thing. Because they're already accustomed to assisting senior members of the community, they tend to be more patient with beginners than others might be.
Private lessons
If you find an instructor you like (whether it's a librarian or someone else), ask if you can pay for private lessons separate from any group instruction.
Community senior centers
Many have added computer centers that provide access to computers and the Internet and offer training.
SeniorNet Learning Centers
SeniorNet, a national nonprofit organization that specializes in computer and Internet education for older adults, provides training through a network of Learning Centers around the country. The locally operated centers use a "seniors teaching seniors" approach so that you learn from a peer who was probably at your learning level not too long ago.
Courses range from computer fundamentals and e-mail essentials to buying and selling online.
Find your closest Learning Center in SeniorNet's online directory.
Computer retailers
If you have an Apple computer (a "Mac"), Apple stores across the U.S. offer free workshops. When you purchase a Mac, you may also purchase one-on-one training to help you get set up and started.
Stokes cautions against registering for training through a retailer without learning more about the instructor first.
"I recommend going into the store and asking for a class that's designed specifically for seniors," she says. "You want the teacher who spends the most time with older adults, because they have a definite skill set that will make learning less stressful for you."
Best Buy offers a special Geek Squad partnership for AARP members that includes discounts, how-to information, and free pre-purchase information that will help you make an informed decision. Plan members who want personalized instruction get a 50 percent discount on a half-hour training session.
Relatives and friends
If you'd prefer to get instruction from a relative or friend, select someone who is patient and willing to work at your pace. Stokes offers these three tips for your instructors:
If you're teaching a family member, pretend that your student is someone else's mother or grandmother. Your student will appreciate the atmosphere created by a little less familiarity.
Be careful not to use computer jargon with a beginner. A "mouse" to someone who's never sat in front of a computer has a tail and looks nothing like what a novice might be inclined to call a "pointer" or "clicker" instead.
Do everything three times, whether it's teaching how to use the mouse or how to write an e-mail message. First, let the student try it. Second, have the student take notes while you demonstrate. Third, let them follow their notes to try it again. Have them make changes to the notes if necessary so they can use them later when you're not there.
Banish those blues, exercise your brain, and connect with those near and far by learning how to use today's technology. Get information, shop and share photos with those who are important to you—all from the privacy and comfort of your own home.