A Hoarder's Move to Assisted Living
Compulsive hoarding can be classified as a psychological disorder often observed among individuals with obsessive compulsive tendencies. Once this behavior interferes with day-to-day activities, it can be qualified as pathological hoarding. According to Smith College psychologist Randy Frost, there are over four million hoarders in the U.S and most come from the senior age bracket. They tend to excessively save and keep everything, like appliances, cereal boxes, paper bags, rubber bands, and other seemingly discardable items. They continue doing so until their homes are packed with their collection, but still they find a hard time parting with any of it. This can make the prospect of transitioning to assisted living even more difficult because they have to confront parting with their collections.

Some aspects of an aged person's pre-dementia personality can be magnified by the hoarder's disorder. One who was prone to anxiety could have more tendencies to save and collect items in order to cope with the possibility of outliving their resources and the inevitability of the aging process. These hoarding tendencies among dementia patients could imply their desire for security and comfort in the face of anxiety and fears-- fears of memories lost without tangible evidence of what has happened. Since they easily lose track of what's currently happening, those items could become even more significant to them.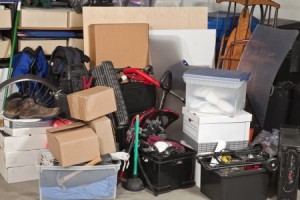 The usual choice of the families of these patients is to move them to an assisted living facility. The transition might not be easy for both the patient and their family, but everything will go smoothly once thorough planning and preparation are done. You and your siblings must plan thoroughly, so you won't get overwhelmed by the clutter brought forth by the years of accumulated collections.
Here are some tips that can help the patients' family go about the transition better:
Approach the matter with sensitivity. Do not call the pieces "clutter" or "junk" as the hoarder values each of them like a treasure.

Set a specific date to begin the cleaning process and work on one room at a time.

You can hire a cleaning personnel to clean up all the mess.

If not, you can independently go about it step by step.

Set up boxes for donations to charitable organizations.

Set aside the items your loved one can take with him as he goes to the facility.

Save the items you can give away to family and friends.

Throw the ones that are plain trash.

If your aged parent or relative moves to the senior care facility before the cleaning schedule, have him pick the ones he wants to take.

If he is around while you are cleaning, keep the doors of the rooms you're working on closed.

You can also simply take pictures of the prized possessions he can't take with him. Compile them in a photo album, so he can still reminisce and share the objects and their stories to others after he moves.
Sensitivity to your senior family member is extremely important in these situations. As much as it is difficult on the family's end, it can be even more difficult on the patient's part. That is why you should also take time to choose the right assisted living center that can nurture him well. If you want him to overcome his hoarding urges, you can choose specialized facilities that offer remedy or activities that can minimize their hoarding tendencies. You also need to check if the community is offering the best medical assistance to your loved ones.
Ultimately, don't miss to visit your loved one regularly because after all, the main thing he needs is to feel the warmth of his family's presence. In the end, you're still the best tangible thing he has.
If you're seeking an assisted living facility in Los Angeles for a family member we encourage you to Contact Us to schedule a tour, or Request a Brochure for more information.