Recreational Activities: Life in Senior Communities
Age is just a number! It is definitely not an excuse to stop keeping the mind and body fit. Even senior citizens need to engage in recreational activities and stay active. However, according to the President's Council on Fitness, Sports, & Nutrition, only 8% to 34 % of adults under the age of 65-74 are leading an active life. In places such as Melrose Gardens in Los Angeles, assisted living services are not only limited to taking care of the elderly but are also geared towards making sure that they're always happy and healthy. Here are some recreational activities that are proven to be beneficial and enjoyable for seniors.
Aerobic Exercise Programs
Alzheimer's is a very common disease that strikes the elderly quite often - 1 in 9 senior citizens in the United States has some form of Alzheimer's. It happens when the brain cells are impaired by certain components and often results in the impairment of cognitive skills, as well as memory loss. One of the most popular methods of delaying the effects of Alzheimer's disease is taking Aerobic classes. Aerobic exercises are known to increase blood flow (especially to and from the brain), thus preventing it from slowing down and stopping the brain cells from diminishing. There are specially designed aerobic exercise programs at our assisted living facility that focus specifically on memory care and other such issues.
Brain Enhancing Games
Another way to ensure the sharpness of a senior citizen's mind would be to allow him or her to engage in activities that actually encourage thinking and are proven to ameliorate cognitive functions. This would include playing crossword puzzles, playing chess, and other games that would require analysis or even simple problem-solving skills.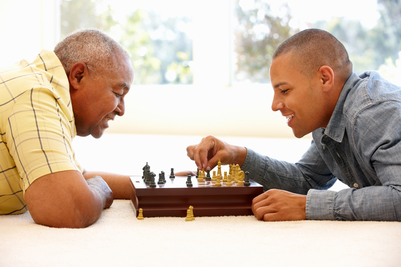 Culinary Arts
Assisted living also provides residents all the necessary equipment they need. Cooking is not only good for one to monitor his or her diet, but it's also effective in keeping the mind and body busy. Creativity can indeed go a long way. Most of the time, kitchen services in assisted living communities are aided by an able and trained staff member who helps the residents with the preparation of ingredients and cooking.
Brochure and Information For Our Assisted Living Facility
Melrose Gardens is one of the best senior care communities in Los Angeles because of the number of recreational programs that are available--from music instrument classes, to computer and language classes, the options are well rounded, interesting, and fun. Special programs like these are proven to be effective in battling mental conditions like depression, anxiety, and even dementia that usually attack seniors. These are assisted by professionals that are well trained in taking care of and nursing seniors.
If you want to learn more about assisted living in Los Angeles, you can Contact Us here, Request a Brochure, or Visit Us.