Senior Living: How Los Angeles Is a Unique Location for Retirement
Los Angeles is known for a lot of things, but it may not be the first city that comes to mind when one thinks of retirement destinations. Regardless of any preconceived notions, however, it's actually a treasure trove filled with interesting and fun experiences. There's really something in Los Angeles for everyone – no matter your lifestyle or your age.
In fact, it could be argued that Los Angeles is perfect for retirees, especially those looking for an exciting senior living experience. After all, with retirement comes a sudden increase in free time, which puts many seniors at risk of boredom. But all that free time is also a great opportunity to try new things. Whether that's a change in scenery, taking up a new hobby, or immersing yourself in a new cuisine, Los Angeles has it all.
No one knows that better than Melrose Gardens, a luxury retirement community in Los Angeles. With regular group outings organized around a wide variety of activities, our senior living community ensures that its residents get the full Los Angeles experience, while also providing individualized guidance and support.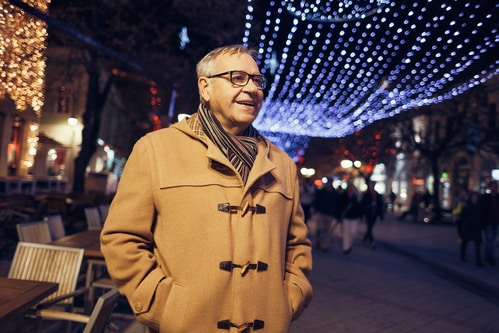 Here's 3 factors that make Los Angeles a unique location for retirement.
It's Easy to Stay Active and Healthy
With an average temperature of 63 degrees, Los Angeles offers an irresistible climate. Between the weather and the amazing scenery – including beaches, mountains, and lush botanical gardens – residents of all ages have plenty of reasons to get fresh air. Outdoor yoga and tai chi groups can be found all over the city, along with farmers markets that make healthy food easily accessible. And the beach isn't the only place to relax; there's lots of spas and meditation groups, too.
You'll Never Run Out of Things to Do
The entertainment options in L.A. are seemingly endless, no matter your taste. There's always TV tapings in Hollywood to attend (or participate in), including game shows and sitcoms. But if you're looking for a different sort of live entertainment, there's also comedy shows (such as Senior Comedy Afternoons), live music, and theaters. Even going to the movies in L.A. can take you by surprise, with nostalgic venues like the Electric Dusk Drive-In. Looking for something off the beaten path? Check out the Bob Baker Marionette Theater or the California Institute of Abnormalarts.
A Rich and Diverse Culture to Explore
Los Angeles is one of the most diverse cities in the country, and this is reflected in its long list of ethnic and cultural festivals, dozens of art galleries and museums, and an abundant culinary scene. History buffs will be enthralled by the La Brea Tar Pits and Museum, and foodies will love having thousands of restaurants to choose from. Los Angeles is also famous for its innovative architecture, offering eye-catching buildings that range from modern to futuristic.
Closing Thoughts
Los Angeles is a huge city filled with unique experiences set against gorgeous backdrops. Retirees looking for new adventures will find plenty of activities to keep themselves busy, whether it's people-watching on the boardwalk, checking out classic films, visiting a planetarium, or hiking in the mountains.
We understand that senior living should be engaging and enriching, and that's why we connect seniors with many unique and fun opportunities within Los Angeles. To arrange a tour of our senior living community in Los Angeles - please contact us.