If you're looking for memory care for yourself or a loved one, it's easy to feel overwhelmed by all the options and terminology. Senior living, assisted living, independent living, nursing home, retirement home, skilled nursing facility – these are just some of the different terms you may have encountered, and it's common for memory care or alzheimer's care to be provided as a program within a community.
We understand how challenging it can be to find the right retirement housing, and we believe that being informed can make all the difference, especially if you're seeking a place that specializes in memory care or Alzheimer's care like our community at Melrose Gardens. In this article, we'll compare nursing homes (also called skilled nursing facilities) with senior living communities (also called retirement communities, or assisted/independent living).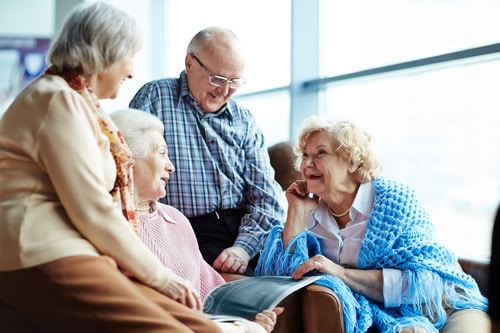 Atmosphere
One of the most noticeable differences between senior living communities and nursing homes is the atmosphere. The term "nursing home" often brings to mind a cold and hospital-like environment, while senior living communities offer a warmer and more inviting experience.
For example, senior living communities are designed like neighborhoods. Residents live in their own apartments with options like private baths, kitchenettes, and balconies. Décor is contemporary and tasteful, creating a cozy, home-like atmosphere. The emphasis on community promotes social interaction and connection, helping prevent loneliness and boredom.
Nursing homes may offer shared or private rooms, but without additions like kitchenettes. They also tend to be much larger than senior living communities, housing as many as 100 people in one facility, compared to 50 or less (on average) in a senior living community. By limiting the number of residents, senior living communities ensure a more comfortable and personalized retirement experience.
Amenities
In a senior living community, you're likely to find a variety of amenities, as well as both indoor and outdoor spaces. Landscaped gardens and paths, field trips into the surrounding city, and free transportation services provide residents with ample opportunities to go outside and enjoy themselves. Senior living communities often have libraries, salons, and fitness centers, along with activities such as arts and crafts, live entertainment, and games, which keep residents active and engaged. Melrose Gardens works to really emphasize the community feel, and we make things feel like home for every resident whether they're in our memory care program or have an independent living routine.
Nursing homes, on the other hand, tend to have much less variety when it comes to amenities and activities. Common areas are limited, and there are often no outdoor spaces or transportation services.
Levels of Care
Senior living communities usually offer multiple levels of care, such as independent living, assisted living, and memory care, with options to personalize programs for each resident's needs. This allows residents to "age in place" and retain as much freedom and dignity as possible throughout the aging process. We're fully committed to this concept, and we are especially committed to establishing the most forward thinking memory care community in Los Angeles.
Nursing homes don't offer this sort of flexibility and aren't appropriate for seniors who wish to retain an independent lifestyle. They're most comparable to assisted living, but with closer supervision and more assistance with daily living activities. Both assisted living and nursing homes provide skilled nursing care; however, nursing homes are often more appropriate for those with ongoing severe medical needs.
Price
Finally, nursing homes are, on average, significantly more expensive than senior living communities. This is likely because nursing homes provide extensive personal and medical care, supervision, and a large round-the-clock medical staff. It's important to note that while Medicaid typically covers nursing homes, it may or may not cover senior living communities.
Closing Thoughts
Moving into a retirement community, no matter what type, can be a difficult decision. However, with a clearer understanding of the differences between the available options, making the right choice can be much easier. Overall, nursing homes may be the best option for retirees who need close supervision and constant medical care, depending on their needs. Senior living communities are appropriate for independent seniors as well as those who require more care, and all who fall in-between.
Melrose Gardens
Memory Care in Los Angeles
We specialize in memory care and Alzheimer's care. For more information about our beautiful community or to schedule a tour, please contact us today .