Reminiscence is a major component of memory care. Looking back at memories of the past can be incredibly beneficial for aging adults, and the benefits only multiply when memories are shared with friends. At Melrose Gardens, our memory care model places a strong emphasis on reflection in a welcoming community setting that encourages friendship and connection. Below, we discuss a few of the benefits of connecting with friends over shared memories in a senior living setting.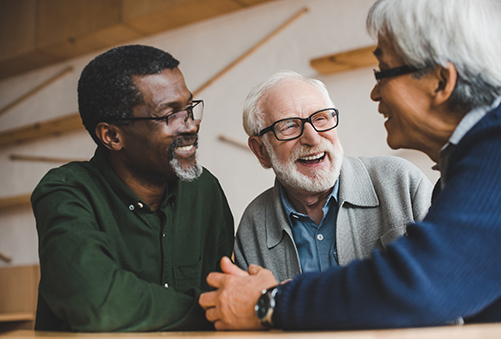 Collective Memories Help Seniors Remember
As our memories decline with age, it's common for older adults to experience lapses in their memories, and coming together and sharing collective memories can help seniors fill in the blanks. Whether it's with new friends who grew up during the same time period or with lifelong friends who have a shared history, reminiscing together over shared memories can help seniors recall moments and memories that they may have forgotten. This helps seniors create a bigger picture of their life in their minds, which can help them maintain a greater sense of purpose and dignity.
Reconnecting with Old Friends Encourages Identity
Psychologists theorize that our past makes up a major part of our identity. Memory loss can often result in a distance between seniors and their past, leading to a diminished sense of self. Being able to reconnect and reminisce with old friends who have a shared history can help aging adults connect their past and present self. This allows seniors to have a more holistic view of their identity. A sense of meaning in life is also closely tied with identity, and reconnecting with their past can help older adults cope with aging as they re-channel their life's purpose. Sharing and recollecting one's accomplishments and achievements with others can also improve a senior's feelings of importance as they better understand their place in the world.
Reminiscing with Friends Improves Quality of Life
According to the American Psychological Association, looking back on memories can improve a senior's sense of well-being, and the social benefits of reminiscing with friends only adds to this. Social interaction becomes increasingly important as seniors age, and looking back at positive memories and sharing the good feelings associated with them in a social setting can improve a senior's mental and physical health. Engaging in shared memories also reduces symptoms of depression and improves senior's outlook on life. After remembering happy memories, a senior may be brighter and smile more, and this happiness can quickly spread in a senior living community as residents delight in memories together.
Melrose Gardens
At Melrose Gardens, we provide memory care in a welcoming community setting where friends and loved ones can relax and reminisce. If you're exploring memory care communities in the Los Angeles area, we'd love to have you over for a tour of our independent and assisted living community. Our doors are always open, and we will be happy to walk you through our programs and give you the information you need to make the right decision for your family.
960 Martel Avenue
Los Angeles, CA 90046
Phone: (323) 876-1746
Email: director@melrosegardens.com