Reading is a treasured pastime for people throughout all stages of life. Although diving into a good book often becomes less of a priority with age, the benefits of reading become even more important past retirement. The entertainment value of reading is already widely appreciated, but the cognitive benefits are just as noteworthy.
At Melrose Gardens, the overall health of our residents is our top priority. Our memory care model encourages regular mental exercise, and like the body, it's important for older adults to keep the mind active with activities like reading. Below, we discuss a few of the benefits seniors may enjoy when they read often.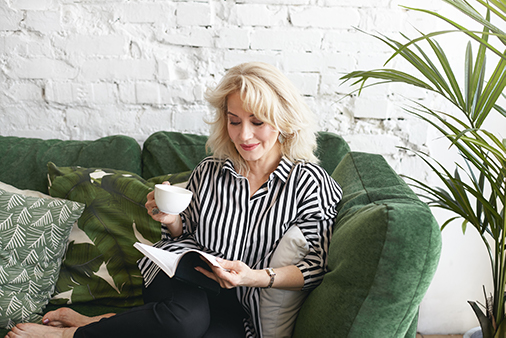 Strengthens Neural Networks
After retirement, it can be easy for older adults to fall into a routine that's saturated with passive activities like watching television. Reading, however, is a more active task, requiring consistent recall of a story's details. This serves as a type of mental workout, which can strengthen the brain's neural network and help with learning and memory retention while slowing the degenerative process of Alzheimer's. Paired with other memory care exercises, reading can play a key role in helping seniors maintain their independence and dignity by improving their ability to recall everyday events and information.
Improves Concentration and Decision-Making Skills
In addition to enhancing memory function, reading can improve a senior's ability to concentrate. Concentration is one of the cognitive functions most impacted by aging, and in a culture that increasingly encourages multi-tasking, it becomes even more difficult for seniors to focus. Seniors who regularly find themselves absorbed in a good book may find that they are better able to concentrate in their daily lives, leading to improvements in executive functioning and productivity. Additionally, the mental exercise provided by reading can boost a senior's analytical and reasoning skills, which tend to decline throughout adulthood.
Encourages Connection
Socialization becomes increasingly important with age, and many older adults may find themselves feeling both physically and emotionally isolated from their friends and loved ones if they don't leave the house often. Though often considered a solitary activity, reading can provide older adults the opportunity to connect with others by offering conversation starters. They may also enjoy more social opportunities by joining a book club. In addition to being able to reap the cognitive and emotional benefits of social activity, seniors who are encouraged to recall and discuss the plot or ideas from a book with others may see improvements in their memory function.
Melrose Gardens, Memory Care in Los Angeles
Older adults who make the shift to a senior living community have greater opportunities to participate in daily activities that enrich their lives and strengthen cognitive health. At Melrose Gardens, we provide personalized memory care in a welcoming community setting where seniors can read, relax, and connect.
If you're exploring memory care communities, we'd love to have you over for a tour of our independent and assisted living community in the Los Angeles area. Our doors are always open, and we will be happy to walk you through our programs and give you the information you need to make the right decision for your loved one.
960 Martel Avenue
Los Angeles, CA 90046
Phone: (323) 876-1746
Email: director@melrosegardens.com
References
The Fisher Center for Alzheimer's, https://www.alzinfo.org/articles/reading-alzheimers-bay/