The Transition To Assisted Living
Transitioning an elderly parent or relative into an assisted living community can be a difficult decision, but it can also be the best decision you can help them make. Thinking ahead about assisted living is the best way to approach this often difficult transition. Once you dig into the world of assisted living you will realize that there are many different kinds of assisted living communities and facilities designed to meet different specific needs their elderly residents may require. There are so many different kinds of facilities and senior care programs available that in the United States alone there are over 26 different state designations and legal terms to describe the various families of senior care services. Different senior care programs are designed to provide various levels of independence and hands-on care to residents. Choosing the right program for your elderly parent requires a lot of research regarding the different senior services available, then making sure that any assisted living community you're considering has a care program which fits the needs of your elderly parent or relative.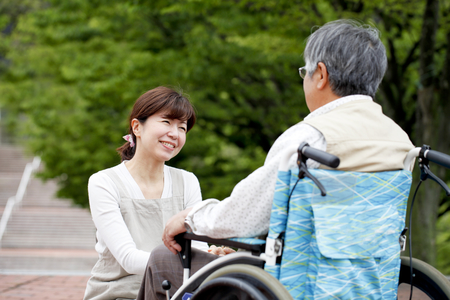 Try to anticipate the timing of the assisted living transition well in advance. You need time to research senior care services, identify which type of assisted living facility best suits your elderly parent, and then locate an assisted living facility in the right area with the right accommodations. Refining your search down to a handful of assisted living facilities which fit your criteria is only half of the process. An assisted living facility may fit your criteria in terms of care services, location, and pricing, but you must visit the location in person to know if the care program is ultimately the best fit.
Each community will have its own living arrangements, staff, special activities, and overall ambiance and feel. If the community doesn't feel "right" and your elderly relative doesn't feel that it's a place they want to live you will need to visit other assisted living facilities. This can be the most challenging phase of the transition into assisted living. There may be no "perfect" situation, but the happiness of your elderly parent is the most important criteria, so don't feel pressured to choose an assisted living facility only because it ticks all of the boxes.
Even after finding assisted living facilities which fits all of your parent's criteria including care services, activities, amenities, and cost, then touring several locations and finding one where you parent wants to live, the facility may have a waiting list. Great care facilities, particularly somewhat more affordable locations, are often completely occupied. Selecting the exact facility you want to transition into far in advance allows you to enter the waiting list so that when it is time to make the move your parent is eligible to enter the senior community of their choice.
Visit Us - Schedule a Tour - Request a Brochure
Don't wait until the last minute to begin your search for an assisted living facility. Melrose Gardens is a premier senior care community in Los Angeles. We have been the "right" choice for many residents for many years. We receive frequent requests from people both in the Los Angeles area and from out of state who are exploring their assisted living options. If you're in the Los Angeles or Southern California area we strongly encourage you to visit our location in person. This is the best way to discover the wonderful ambiance and meet our great staff in person. If you're unable to visit in person, please request a brochure to learn more about our assisted living community. West Los Angeles is a wonderful place to spend retirement and we know you'll put Melrose Gardens at the top of your list. Contact Us for more information or to schedule a tour, or request a brochure.