How We Create A Senior Living Community That Feels Like Home
The core principle of Melrose Gardens is to provide the clear best choice for senior living in Los Angeles. When searching for a senior living community for yourself or for a family member, the choices can be overwhelming. It's true that there are a range of communities and facilities with distinctly different amenities and services which are provided to residents. While it's a given that the senior living community you select must provide the core services you're seeking, the greater challenge is finding a community that is the best fit for your unique personality and lifestyle.
We're continuously evolving our senior living community to create a comfortable physical and social atmosphere. When our residents genuinely feel like Melrose Gardens is their home, then we know we're succeeding.
We feel that it's important for senior living communities to be fluid and regularly introduce new features or activities. Your home continuously evolves and changes with your life, and Melrose Gardens is home to many people. This keeps the community lively and builds charm.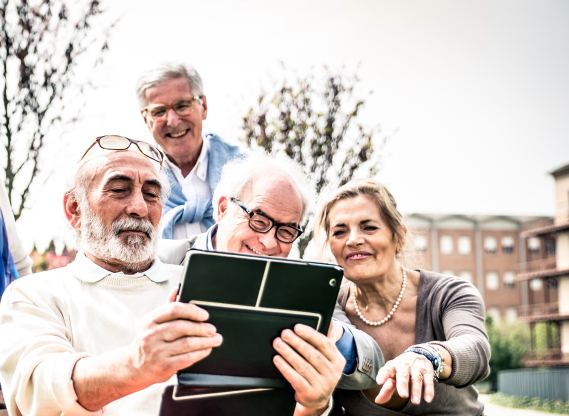 New Features
This month we're introducing our new Wellness Room. This is an exercise room with intelligently selected equipment including a treadmill, elliptical, step climber, and recumbent bike. It will also feature a massage table, exercise table, and a balance bar to allow physical therapists and other trained professionals to work with our residents in maximizing their balance, walking, stretching and strength abilities.
Upcoming Activities
On July 21st we'll be hosting the Melrose Jazz Festival at our Crib. The hip details are still being developed for all you cats and daddy-o's, but we will certainly feature a Barn Burner Jazz band with some Bad Horn and Boogie Woogie, where they will Break It Down for you. Be sure to mark that date on your calendar.
We've also recently introduced a new "Getting to know your furry friends" program with a volunteer group called Pet Partners. Our senior living residents highly enjoy these visits with the animals, so we encourage you to be sure and get your pets in.
If you're exploring your options for senior living communities in Los Angeles, please come visit and enjoy these events with us.
You're welcome to visit, enjoy lunch with us, and tour our community. We'll be able to explore our community, explain our amenities and living options, and guide you through your senior living search. If you have questions or would like to arrange a tour please call (323)-928-4366 or email info@melrosegardens.com. You're also welcome to use the chat feature in the lower right hand corner, or fill out our contact form.