Senior Living: Popular Senior Fitness Activities
Fitness classes are a great way to stay active and busy in retirement. No matter the setting or activity, working out with other people can help seniors stay motivated, independent, and social. For many, it's an essential part of healthy senior living.
However, it's common for seniors to shy away from fitness classes because they feel intimidated or are afraid of getting injured. Enter senior fitness classes: involving a wide variety of activities, and tailored specifically with seniors' needs in mind, they're booming in popularity with no signs of slowing down.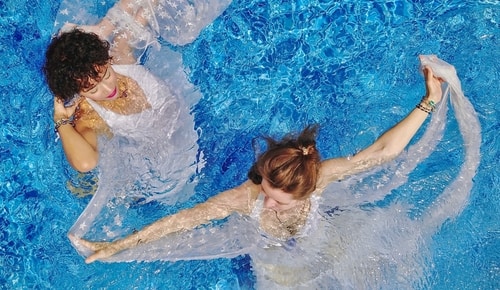 As a senior living community based in Los Angeles, Melrose Gardens recognizes the importance of staying active in retirement and the value that senior fitness classes have to offer.
Yoga
Yoga holds wide appeal for beginners and fitness enthusiasts alike; it's a proven way to reduce stress and anxiety while improving overall wellbeing. Regular yoga practice improves flexibility and balance, supports good digestion and blood flow, and increases joint strength and mobility. Yoga also slows down the aging process, making it especially beneficial for seniors.
Water Aerobics
Popular among seniors due to its low impact on muscles and joints, water-based exercise is a good choice for those who are concerned about pain, injuries, or falls. Although they're low impact, water aerobics provide the unique benefit of constant strength training, thanks to the natural resistance of water.
Dance
Dance classes are a particularly fun choice for seniors who are looking for a sociable and entertaining workout. The Ahmanson Senior Center has multiple dance classes that are tailored especially for seniors, including mambo, salsa, and square dancing. Other popular options include folk dancing and Zumba.
Conclusion
Los Angeles offers a wide variety of senior fitness groups. From water aerobics to boxing, there are exercise classes to suit just about every lifestyle and fitness level. Fitness classes allow seniors to improve their health and wellbeing under the supervision of a professional trainer, all while having fun and making friends.
Staying active is an important part of senior living, which is why Melrose Gardens likes to keep things interesting with a variety of stimulating activities, including tai chi, chair aerobics, and yoga. We also offer personalized exercise programs to ensure that seniors with all types of needs and abilities can be accommodated. If you're searching for a senior living community in Los Angeles for yourself or a family member, please contact us for more information about Melrose Gardens or to schedule a tour.