Although visiting a loved one with memory loss can present emotional challenges for both you and your loved one, the way you respond to and interact with them can make all the difference in managing their condition. Paired with compassionate memory care at our assisted living community in Los Angeles, the role you play in your aging loved one's life is key to helping them regain a sense of identity and dignity.
When visiting a loved one with memory loss, keep these suggestions in mind: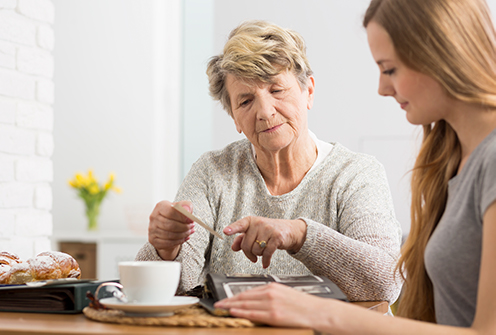 Stay Calm and Compassionate
Visiting a loved one with a memory loss condition can be an upsetting experience. Depending on the progression of your loved one's memory loss, he or she may forget key details of their life and identity, including the names of family members. In some cases, your loved one may be moody or withdrawn, which can only add to your feelings of anguish.
However, it's important to remain calm when in the presence of your loved one. Many seniors suffering from a memory loss condition like Alzheimer's or dementia are aware of their memory loss and can feel anxious and agitated when they recognize that they are struggling to remember something, and seeing others in distress may aggravate these feelings. Although it may be difficult to see your loved one forget who they are, expressing compassion, patience, and composure will encourage them to feel at peace.
Provide Gentle Reminders
Though your loved one may not remember everything, providing gentle reminders of important memories and relationships can help them regain a sense of identity. Showing tangible evidence of the past like meaningful objects and photographs can help stimulate your loved one's forgotten memories.
Your loved one may have questions about these memories, so try to keep your explanations simple and succinct to avoid overwhelming them. If your loved one expresses confusion about what's being presented, avoid phrasing that may make them feel ashamed.
Further, some people with memory loss can only remember the people and events of a specific period of their past. If this seems to be the case, don't hesitate to discuss and relish in those memories with your loved one as if they are part of the present. If may be tempting to encourage your loved one to live in their present reality, but this can cause further feelings of confusion.
Seek Person-Centered Care
At Melrose Gardens, we provide personalized care for seniors suffering from a wide range of memory loss conditions. At all stages of memory loss, we strongly believe that providing person-centered care is the key to maintaining an aging senior's dignity and well-being, and this approach is not only limited to caregivers.
As a family member of a person with memory loss, your presence can play a powerful role in reminding your loved one of who they are. Staying patient, calm, and compassionate while gently reminding your loved one of their past can make all the difference in maintaining a meaningful relationship with your loved one while promoting a sense of identity and dignity.
Melrose Gardens
Memory Care in Los Angeles
Our memory care community places incredible value on the role of our residents' loved ones. If you're exploring assisted living communities in the Los Angeles area for a loved one with memory loss, our doors are always open. We'd love to have you over for a tour of our community, where we can walk you through our programs and give you the information you need to make the right decision for your family.
960 Martel Avenue
Los Angeles, CA 90046
Phone: (323) 876-1746
Email: director@melrosegardens.com