We have a new director at our senior living community
The director of a senior living community is an important role. This person ensures that every component of the community is the best version of itself. This involves everything from ensuring there is a well rounded selection of activities and events, to working with our kitchen team to help plan meals (like our traditional Thanksgiving feast), and coordinating healthy activities and therapies. Sahar Ben Edalati is now serving as the Executive Director of Melrose Gardens, and will work to ensure that every resident is happy, safe, and healthy.
As always, we have a lot going on in November. More programs and activities that we can cover here, but we would like to highlight a few things that help make Melrose Gardens one of the best memory care and assisted living communities in Los Angeles.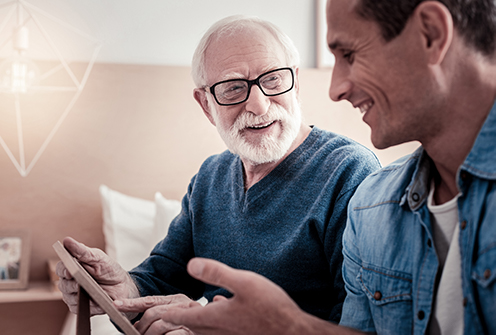 Activities
Music
We have a music appreciation class as well as in house performances twice per week, including a variety of styles like jazz, r&b, swing, comedy, and we have a music therapy event.
Religious Services
We are a senior living community that welcomes residents of all faiths, and we have in-house Catholic Mass on Sundays, Shabbat Services on Fridays, and Church Services on Saturdays.
Traditional Thanksgiving Dinner
On Thanksgiving we serving a traditional turkey dinner with all of the side dishes and fixings that everyone loves. This is a favorite holiday here and we're happy to give this experience to everyone. We have so much to be thankful for and this is a feel-good occasion for everyone here.
Key service: Memory Care Program
We are a memory care community in Los Angeles with excellent programs for seniors experiencing memory loss, mild cognitive impairment, and alzheimer's. We address the needs of seniors with memory care needs, providing sophisticated therapies, activities, and exercises, while facilitating a rich and rewarding retirement lifestyle.
See more about our memory care programs.
Melrose Gardens
Memory Care in Los Angeles
Each month we challenge ourselves to take actions and care that ensures we're providing the best memory care for seniors in Los Angeles, are operating on the cusp of the most advanced and effective memory care therapies, and are providing this memory care within the context of a healthy and safe senior living community that gives our residents peace and happiness. Our residents and their families tell us we're achieving that goal, and that motivates us to continue our mission.
If you're exploring memory care or assisted living communities in the Los Angeles for a family member, whether you're in the early stages of gathering information about what memory care involves, or you're further along in your decision and are in the process of selecting a community, we can walk you through our programs, advise on suitable options for your family, and give you the information you need to make a great decision.
960 N. Martel Avenue.
Los Angeles, CA 90046
Phone: (323) 928-4366
Email: director@melrosegardens.com