Our work in memory care
One of our core purposes at Melrose Gardens is to create the most well thought out, varied, and fulfilling assisted living programs in Los Angeles. A glance at our calendar reveals a range of plans and activities that work to nurture our resident's minds, bodies, and spirits.
Each month we ask ourselves how we can make it the best month ever at Melrose Gardens, and our entire team is onboard with doing great things for our residents.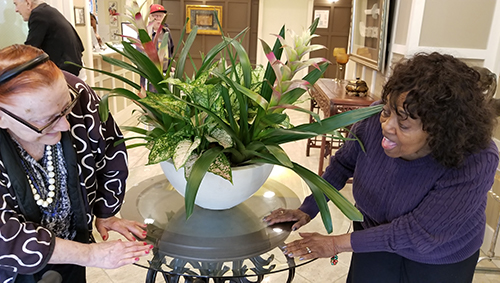 Women's History Month
March is women's history month, and we will be celebrating the contributions of women to history and society through a variety of activities. These include group discussions, and each day we examine important individuals from different areas of discipline, with days reserved for artists, musical performers, composers, and authors.
Resident Spotlight
Our residents are the reason we're here, and as part of recognizing the presence of each individual, and ensuring everyone in our community is seen, we spotlight an individual each month to recognize their character, work, and life.
For March we're recognizing Pat, a New York native who lives at Melrose Gardens with her terrier Talulah. Pat is a fan of all the activities we setup for our community each month, and loves that no two days are the same. We are lucky to have people like pat who bring fun energy, rich stories, and lots of perspective to our residents and our entire staff. One of the joys of being in senior living is the lessons and inspiration that we receive from our residents, and our community is a better place because Pat is here.
Melrose Gardens
Memory care, assisted living in Los Angeles
We're so happy to see our community constantly improving. Each time we add a new team member or incorporate a new program, we feel good knowing that we're having success in providing top level care in assisted living and memory care.
If you're searching for memory care or assisted living in the Los Angeles area, we would love to have you over for a tour of our community, and lunch with our team. We can walk you through our programs, advise on suitable options for your family, and give you the information you need to make a great decision.
960 Martel Avenue.
Los Angeles, CA 90046
Phone: (323) 876-1746
Email: director@melrosegardens.com