Part of the work we do as an assisted living and memory care community in Los Angeles is finding ways to communicate and connect with our residents and their families on a personal level. Of course, we take seriously our role as providers of care and safety, but working to establish strong interpersonal communication in ways that allow us to recognize each resident individually, develop an intuition for their needs, and then anticipate what their needs are likely to be before they happen, we feel, is an important characteristic of what drives our person centered approach to care.
We have worked hard to maintain this recently, safely navigating our community through the expected challenges of assisted living and memory care services, as well as global and national issues. Please take a moment to catch up with what's happening with us in August.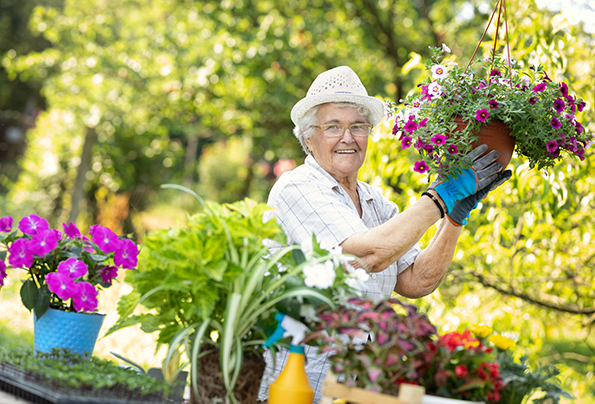 Resident of the Month
Our newest resident of the month in Cottages this August is Nell W! She was born in Atlanta, Georgia in the thirties. She was the baby of the family, the second child for her parents. Ernest and Ruth. She loved growing up with her older sister Cathy, though! Nell attended Marygrove College in New York for Interior Design and Modern Art. She met her husband Martin at Columbia University Law School and together they had a son, Christopher, and a daughter, Michelle. She was happy to exercise her college degree as a furniture store owner and designer. In her free time she enjoys exercising (running was always a favorite), reading, and designing. Thanks for joining our community, Nell, we look forward to getting to know you better!
Employee of the Month
Virginia, better known by her nickname Vicky, is one of our amazing caregivers at The Cottages! Her caring, patient demeanor, and willingness to always lend a hand is what recognizes her as the current recipient of the Employee of the Month award! She is originally from El Salvador and has three beautiful daughters. In her free time she loves to spend time with her daughters in nature, either going to the beach or various lakes. What she enjoys about her position is that she is able to help people, and as such feels purposeful and happy to be here at Melrose Gardens. In the future she hopes to return to school to earn a a professional degree. Thanks for all you do, Vicky!
August 21st is National Senior Citizens Day
On August 21st, National Senior Citizens Day recognizes the achievements of the more mature representatives of our nation. The day provides an opportunity to show our appreciation for their dedication, accomplishments, and services they give throughout their lives. Our senior citizens are pioneers of science, medicine, psychology, civil rights and so much more. Their valuable contributions to our communities create better places to live. They deserve the respect and dignity their achievements earn them.
August 30th is National Grief Awareness Day
On August 30th, National Grief Awareness Day recognizes the time it takes to heal from loss doesn't have a prescribed course and is a reminder closure comes in many forms. When a loved one dies, the void they leave affects everyone differently. Throughout the day, take stock of those in your life who have been affected by a form of loss. The death of a loved one, a close friend or enduring an extreme change in their lifestyle can trigger grief. When we lose the stability of shelter, a job or a routine we have known for years, we suffer a type of loss that requires closure. Some adjust to these changes easily, and others take time to become familiar with new routines. Offer to listen to a friend or ask them to join you for a coffee or tea. Send a message letting them know they are never far from your mind. Then, set a date for another visit. If you find you are suffering from grief, know that it's natural. You're not alone, and it's okay to ask for help if you feel your grief is overwhelming.
Melrose Gardens
Memory care, assisted living in Los Angeles
We're so happy to see our community constantly improving. Each time we add a new team member or incorporate a new program, we feel good knowing that we're having success in providing top level care in assisted living and memory care.
If you're searching for memory care or assisted living in the Los Angeles area, we would love to have you over for a tour of our community, and lunch with our team. We can walk you through our programs, advise on suitable options for your family, and give you the information you need to make a great decision.
960 Martel Avenue.
Los Angeles, CA 90046
Phone: (323) 876-1746
Email: director@melrosegardens.com