As not only an assisted living community and memory care program, but as our resident's home, we work hard to provide rich experiences around the year, savoring the most of each holiday, and creating a strong sense of community between our residents, their families, and our entire team.
Our community is decked out with colorful autumn garlands, pumpkins and so much more, and we are all looking forward to the amazing Thanksgiving Feast that our dining team will be preparing. In thankfulness to our staff who have been amazing during the pandemic, we will be having our Thanksgiving Dinner and Celebration the day before the official holiday, on Wednesday, November 25th; in order to let them leave early enough to celebrate heartily with their own families on Thanksgiving Day.
We're proud of our team at Melrose Gardens and the Cottages, who've worked so hard to keep us all safe throughout this difficult pandemic. We also greatly appreciate the patience and understanding of our residents. We've all bonded as a group, and maintained a sharp focus on our assisted living services, our memory care therapies, and pursuing the best personal outcomes for every single resident.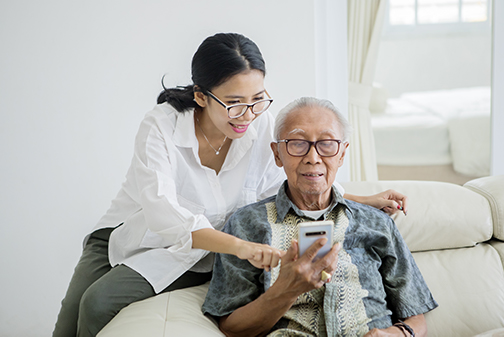 Employee of the Month - Jennifer
Jennifer is our amazing afternoon and evening concierge at Melrose Gardens! We are happy to present her as the employee of the month due to her consistent attendance, patience, dedication, and overall helpful attitude. Jennifer relayed that she loves being a concierge here, especially learning to handle special projects. When she first started, she was new to office work and had to teach herself how to navigate Office Suite, but has loved growing in and learning the position. She especially loves conversing with and helping residents, and enjoys connecting families with their loved ones through phone calls, emails, or visits. In the future she plans to return to school to pursue either a business degree or an RN degree.
Jennifer has lived all her life in Los Angeles except for a brief, four year stint in Las Vegas from 2008- 2012. She was the baby of the family, with two older brothers. She attended Montebello High School, and after graduating in 2015 she went on to earn her CNA certification. She met the love of her life, Geovany, and together she and her fiancée have been raising their three kids. Matthew was just born in February! She loves spending time with her kids, creating fun arts and crafts projects, interesting snacks, and exploratory forts. She is really excited for her and Geovany's upcoming nuptials at the end of October!
Jennifer's philosophy is to "live your best life since you only get one". She works to appreciate her loved ones and those who become special to her, enjoy all of the little things and details that are present, and is always grateful for the opportunities that are given to her. Speaking of people that become special to you, she is incredibly grateful to have gained her fatherin-law. He has been like another father like figure, engages her kids with so much love, and has shown her so much love as well. Thank you Jennifer for all your hard work at Melrose Gardens and the Cottages, we appreciate you!
Resident Spotlight on Helen G.
Helen is one of our newest residents at Melrose Gardens! She was born and raised in Tunis, Tunisia as the oldest of five children, and attended French school. When she married, she and her husband had six children of their own, and Helen happily raised them from home. She also enjoyed a career as a property developer. Whenever she had spare time, she enjoyed favorite pastimes such as listening to music, fishing, and gardening. These days she enjoys spending time with her son when she is able, and learning more about the six grandchildren her kids have blessed her with. We're happy to see you out and about, meeting new people and enjoying yourself at Melrose Gardens, Helen!
Melrose Gardens
Memory care, assisted living in Los Angeles
Our purpose is to provide industry-best assisted living services and memory care programs in Los Angeles. When we hear our residents and their families tell us that they couldn't have asked for a better experience, we know we're succeeding.
If you're searching for memory care or assisted living in the Los Angeles area, we would love to have you over for a tour of our community, and lunch with our team. We can walk you through our programs, advise on suitable options for your family, and give you the information you need to make a great decision.
960 Martel Avenue.
Los Angeles, CA 90046
Phone: (323) 876-1746
Email: director@melrosegardens.com