Thank you to our residents, their families, and everyone on our team for being so compassionate and understanding during this difficult past year. We appreciate the patience and kindness of every resident that we take care of and the families that entrusted us with their wellbeing. In 2020, our team members have worked to do anything that was needed to make Melrose Garden a wonderful place for residents to live, families to visit (virtually), and team members to work through a very difficult period for the world at large.
Here's what's new at Melrose Gardens and we have planned for January 2021.
Resident Spotlight - Dorothy P.
Dorothy is the newest addition to the Melrose Gardens Family! She was born in Texas to Lawyer and Ruth Walton, and attended Phillis Wheatley High School. Dorothy enjoyed being a stay at home mother to her three daughters and two sons. She is now the proud grandmother of seven beautiful grandchildren. She enjoyed cooking and singing in her church choir. These days, she remains very faith centered. Her philosophy in life is "To turn to God first when you have problems." Welcome home, Dorothy!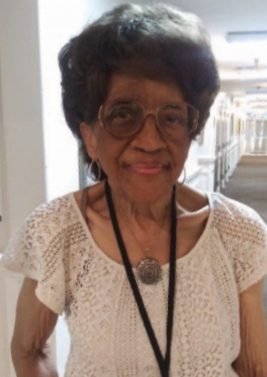 Martin Luther King Jr. Day - January 18
Every third Monday in January we honor the American clergyman, activist, and Civil Rights Movement leader Dr. Martin Luther King Jr. (January 15, 1929 – April 4, 1968). He is best known for his role in the advancement of civil rights using nonviolent civil disobedience. King has become a national icon in the history of American progressivism. Our community will hold programs engaging residents in Civil Rights history throughout the week to learn more about the movement and Dr. Martin Luther King Jr.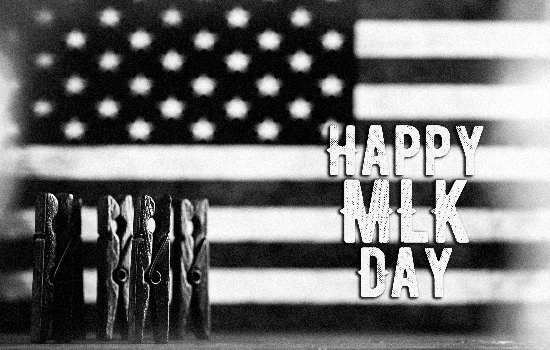 1950's Sock Hop Party - January 29
Meet us at the Hop! Break out your Poodle Skirts and Leather Jackets and join us for an afternoon trip to the soda fountain. Enjoy milkshakes, sliders, and fries as we bop to the best of 1950s Rock 'N Roll.
Inspire Your Heart with Art Day - January 31
Art can move us to tears, or cause us to break out in joyous laughter. Transcendent art possesses the power to inspire our hearts. And just as art comes in so many different forms, there is an equally endless number of ways to celebrate it. This January through March we will examine the major artists and masterpieces of the Italian Renaissance. As art and science evolved throughout the fourteenth to sixteenth centuries, it was key to the development of the artistic innovations of the era. It will be exciting to explore the creations of Masters such as Fra Angelico, Donatello, Botticelli, Michelangelo, Leonardo da Vinci, Raphael, and Titian!
Explore the Benefits of the Mediterranean Diet
According to the Mayo Clinic, the Mediterranean diet blends the basics of healthy eating with the traditional flavors and cooking methods of the Mediterranean. It is one of the healthy eating plans recommended by the Dietary Guidelines for Americans to promote health and prevent chronic disease. The Mediterranean diet is a way of eating based on the traditional cuisine of countries bordering the Mediterranean Sea. While there is no single definition of the Mediterranean diet, it is typically high in vegetables, fruits, whole grains, beans, nut and seeds, and olive oil. Interested in trying the Mediterranean diet? These tips will help you choose the healthy option:
> Eat more fruits and vegetables. Aim for 7 to 10 servings a day of fruit and vegetables.
> Opt for whole grains. Switch to whole-grain bread, cereal and pasta.
> Use healthy fats. Instead of putting butter or margarine on bread, try dipping it in flavored olive oil.
> Eat more seafood. Try grilled fish twice a week. Fresh or water-packed tuna, salmon, trout, mackerel and herring are healthy choices.
> Reduce red meat. Substitute fish, poultry or beans for meat. If you eat meat, make sure it's lean and keep portions small.
> Enjoy some dairy. Eat low-fat Greek or plain yogurt and small amounts of a variety of cheeses.
> Spice it up. Herbs and spices boost flavor and lessen the need for salt.
Employee Spotlight - Kelley M., Lead Caregiver
Congratulations to Kelley, the lead caregiver at Melrose Gardens & Cottages whose hard work and dedication towards caring for our residents serves as a model example to those around her. Kelley was born in Los Angeles and grew up in the city of Montebello. She acquired her first job at Watermark in Beverly Hills as a caregiver and now shares her talents with us. In her free time, she enjoys singing and spending time with friends. She shares with them a love for food; her favorite is Asian food -- especially sushi! Kelley is also working hard towards her goal to become a registered nurse in the future. Her admirable passion for helping other people has driven her to pursue this career as she draws on memorable experiences with the residents. We wish her all the best! The main reason she enjoys her job is that it allows her to interact with the residents and create warm memories with them. It makes her happy to see the residents smile during their singalongs and lightens up her heart to know that she can share her passion for singing with others. Her philosophy in life is to always be positive. This is reflected in her positive attitude during this pandemic, which has helped maintain a healthy working environment and has inspired other staff members to continue to work hard as well. We appreciate Kelley's hard work as well as her invaluable efforts to care for residents here at Melrose Gardens!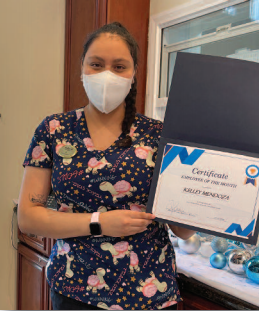 Melrose Gardens
We're a senior living community in Los Angeles, specializing in assisted living and memory care including alzheimer's and dementia care. If you've explored countless assisted living communities in Los Angeles trying to find the right fit for your loved, we invite you to explore Melrose Gardens. Our residents and their families tell us that we stand out from other senior communities, and that they wish they found us sooner. We can accommodate your loved one's needs, including special diets, medication routines, and personal habits and preferences. We love our residents and we're here to help.
Our team is warm, compassionate, and welcoming - this like-home atmosphere is infectious and can be felt throughout our community. We're located in West Hollywood, just off of Santa Monica Blvd.
960 North Martel Ave.
Los Angeles, CA 90046
Phone: (323) 876-1746
Email: director@melrosegardens.com